A weekly round up of the top headlines from the digital sector in MENA, covering startups, corporate and the public sector.
Investments & Acquisitions
AvidBeam Technologies, Egypt big data analytics, begins Series A round with commitment from Egypt Ventures http://bit.ly/2tSiCXX
Beehive, P2P SME Lending Platform, Raises Further $4M Investment as Part of a Series B Round from Riyad TAQNIA Fund (RTF) https://prn.to/2TeGwfm and expands to Bahrain http://bit.ly/2XHI6Fa
Syarah, Riyadh-based online car marketplace, raises investment from Elm http://bit.ly/2tSMVhv
Blueground, Greek turnkey flexible rental apartments, raised $20M from VentureFriends, Endeavor Catalyst, Jabbar Internet Group and Kevin Ryan (angel) https://tcrn.ch/2H1MolN

SoftBank Invests $350M In Delhivery, India based food delivery startup, at $1.6B valuation http://bit.ly/2NJvqZY and $1.5B in Grab, India's top Uber competitor) http://bit.ly/2TCuM5M

Mubadala Investment Company's EU Fund led an investment into WeFox's series B round which raised US$ 125M in funding http://bit.ly/2EQQ5sq

Sector News
ITP Media Group launches "ITP Gaming" which will focus on managing large scale gaming events, representing gaming publishers and influencers, and creating new multi-language games http://bit.ly/2TnWoM7

Namshi to expand into Egypt http://bit.ly/2NE7qr4

Wadi.com pivots to grocery-focus (used to sell everything) in the GCC companies it serves (twitter) http://bit.ly/2ITXN93 – the website now redirects to app with clear different branding and positioning wadi.com

Zomato raises $105M in it's latest funding round led by Delivery Hero http://bit.ly/2EKYgWU and relinquished it's UAE business to Delivery Hero to focus on increasing competition with Swiggy in India http://bit.ly/2NJhCP3 (Now Delivery Hero owns most of the regional food delivery players: Talabat, Carriage, Zomato UAE, and Hungerstation)

Paymate, Indian enterprise payment management, to expand to MENA supported by Visa (their partner in the Indian market) http://bit.ly/2NFfU1e

MidChains, Abu Dhabi-based blockchain enabled financial investment exchange, to open a crypto exchange business under the new Abu Dhabi Global Market (ADGM) Crypto Asset regulatory framework http://bit.ly/2XJB0jJ
Orange (Telecom) launches affordable 3G-featured phone in partnership with KaiOS Technologies and UNISOC in 16 MEA markets http://bit.ly/2C4KAEy
The Food Battle .. continues.
.. yes it's yet another battle in a long war.
In 2012 Delivery Hero was one of dozens of food delivery startups in Europe, and has since acquired half the market, or burnt out the other. In MENA, Delivery Hero financial results for 2018 show a two fold growth in MENA revenues (4 weeks ago) and it may be no surprise as they own most of the market!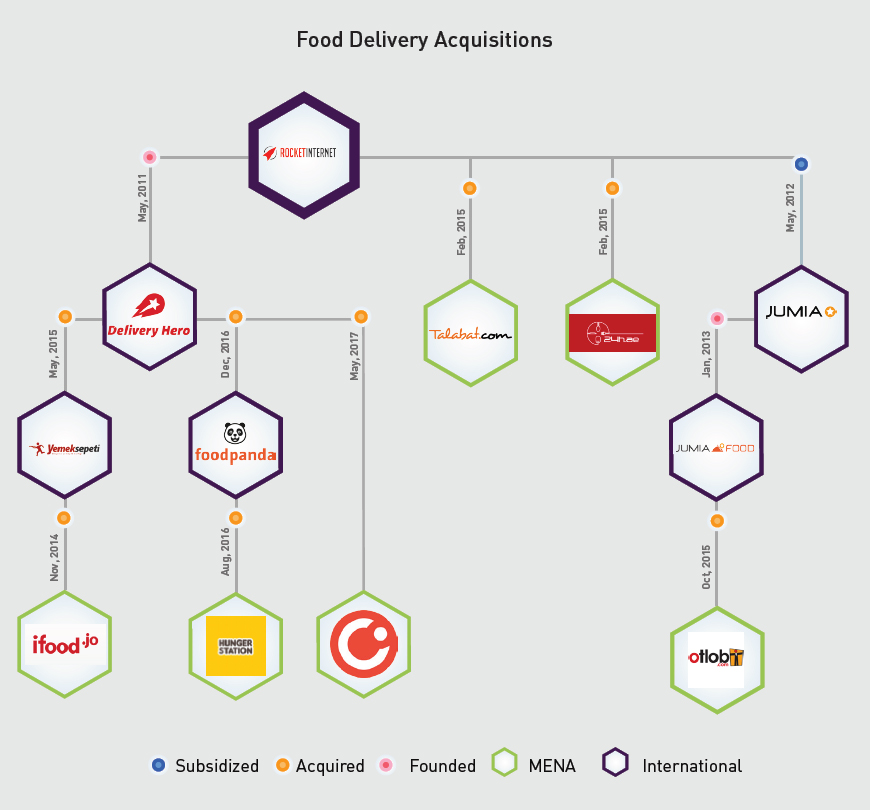 The latest acquisition increases Delivery Hero's power of the delivery market and spells more trouble for Uber Eats, Deliveroo and Careem Now, who collectively hold a much smaller market share (confidential source) than Delivery Hero's kingdom.
There are local players still standing strong to Delivery Hero's dominance in Saudi: Wssel and Jahez. In Lebanon, Onlivery is still growing strong; Zomato launched delivery in 2018, however it is doing it in collaboration with other food delivery services (Toters). Egypt, Akelni ($1.2M funding), Yumamia ($1.3M funding) and ElMenus ($1.5 funding), are taking a crack at the market which may be big enough to share.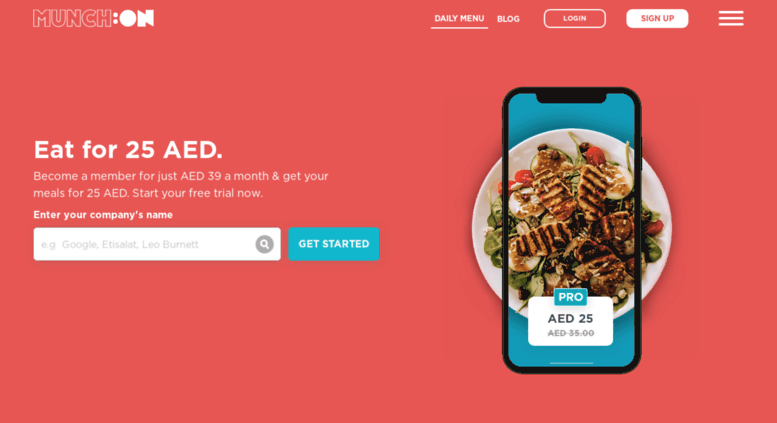 What's interesting to watch is the new trend in lunch focused services like: LunchOn (Dubai, $3.5M) that specialize in curated lunch options, and Mumm (Cairo, $450k). As well as of vertical delivery like Cofe (Kuwait, $3.2M) and Sippy (Dubai) that provide a coffee shop market place to consumers.
Zomato did not drop it's Dubai business due to losses, but the competition on its Indian home-turf with Swiggy has taken priority, and lets face it, India is a far larger market than all of MENA combined.
So next time you stare at Talabat, Carriage, and Zomato in the UAE deciding to order from either or, remember, it's Rocket Internet anyway.
Reports & Long Reads
Agility Emerging Markets Logistics Index 2019 http://bit.ly/2J4Bxt0 "

"E-commerce in MENA: Opportunity Beyond the Hype" by Bain & Co's http://bit.ly/2UoimM2
A Map of Health-tech in MENA http://bit.ly/2ETdk52

Further Readings: The Bigger Economic Picture
Petra Engineering Industries Company, Jordanian manufacturer, signed (the first ever deal in Jordan) with Siemens to supply Petra with the building technology and software to develop a line of smart HVAC and building management systems http://bit.ly/2NKmlzX

---
To get your daily dose subscribe to MENA's Digital News telegram channel here: https://t.me/technologyinmena
---
You now join the daily updates on whatsapp (admin posting only) right here
---